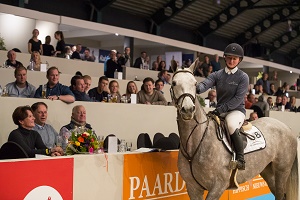 22. Jan 2018
Both regular and new clients came to do their shopping on Saturday night 20 January in the eighth edition of Sale of the Rising Stars. The turnover of 819,000 euro for fifteen showjumping horses was lower than in 2017, but organiser Teus van den Brink is happy that the horses have found their way to professional stables. For Izanula-N (Etoulon VDL x Silverstone) 105,000 euro was paid, for Heartbreaker (Zambesi TN x Clinton) 100,000 euro.
Both auction toppers will soon travel to the Swiss stables from Tina Pol, who also bought the stallion Happy Apple (Baltic VDL x Contendro I) for 66,000 euro. "I could not let him slip through my fingers for that price. We had mainly come for Izanula, but in the end we bought three horses', she says with a modest smile. She would not like to pose with the auction topper. "I rather stay in the background. May I slip out through the side door?", she laughs.
In the last two editions Tina Pol, who has a good eye for jumping talents, had already invested into three auction horses that performed remarkably well under her rider Bronislav Chudyba. "I receive offers for them evey week, but I rather keep them, in fact, I always do. But the idea that you can buy top quality horses at Sale of the Rising Stars, which will generate more value after one year, appeals to me. Bronislav is a good rider. He will get to work with them and he is able to train horses up to 1.60m level."
The beautiful mare Jindi MBF (Quasimodo van de Molendreef x Air Jordan Z) will stay in the Netherlands. Ivo and Ellen Campagne from Stoeterij Sterrehof claimed her for 82,000 euro. A new British client, who registered the night before the auction, bought three horses by telephone, including Iwalinde (Zirocco Blue VDL x Corland) for 78,000 euro. The German showjumping rider Harm Lahde from Gestüt Eichenheim managed to get one of the other top-class horses, Ogano Girl (Ogano Sitte x Mermus R), for 62,000 euro. Sport- and sales yard Geerink purchased two: Iniesta (California W Z) for 32,000 and Harley (by Tygo) for 28,000 euro.
"I am pleased with the results of the sale", says Teus van den Brink. "The horses of which I had high expectations sold well. Of course you hope to get the same turnover as the year before, but that was really an abnormal auction year. I later heard from people who called me that they were sorry that they had stopped bidding, but that is the way it goes with auctions. You can never tell. I am happy that the horses will go to good stables, so that we may hear from them again in the future."
The bronze horse statue, created by artist Jacqueline van der Veer, was bought for 2,500 euro by Kuipers Logistics and will be donated to KWF Kankerbestrijding.
www.saleoftherisingstars.nl