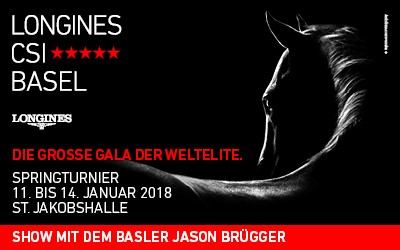 12. Jan 2018
LONGINES CSI BASEL brings excitement to showjumping
Der LONGINES CSI BASEL sporting programme has been designed to highlight the drama of unfolding events, with emphasis on suspense and variety.

Thursday, 11 January 2018
The seventh occasion of this event, named LONGINES CSI BASEL after its sponsor, will begin at 8:45 with two amateur competitions over 120 and 130cm jumps. The professionals will face each other in the first open events at 14:00. At 16:45 the Grosspeter Nutzfahrzeuge AG trophy will be contested, a competition over 145cm obstacles. This will be followed at 19:45 by the highlight of the day: theChallenge of Bank J. Safra Sarasin AG.


Friday, 12 January 2018
The second day of the tournament will begin with two further amateur competitions starting at 8:15. At 14:00 the professionals will enter the arena to compete for the Thermoplan AG trophy. This is followed at 16:45 by the no less exciting Grosspeter-Prize progressive points event. As a crowning finale riders will compete for the Basel City Championships, which will be held as a jump-off. In this demanding event riders will compete not only for the financial rewards, but also the coveted "Basel Golden Drum" trophy.
Saturday, 13 January 2018
Once again the amateurs will demonstrate the abilities of their horses, starting at 8:15 and 11:15. At 14:00 the Helvetia International Amateur Final will start, now in its forth year. The programme continues at 16:30 with the Grand Basel Showjumping event, held under the patronage of Dach + Holztech GmbH. The Swiss Horse of the Year will be honoured at 19:10, followed at 19:30 by the Grand Hotel Les Trois Rois trophy – a jump-off event.

Sunday, 14 January 2018
At 10 the professional riders will compete for the Canton Basel-Landschaft trophy. At 14:15 a lot is at stake: a competition with a jump height of 160cm and a field of 45 riders, of which 15 will qualify for the final. It is no less than the LONGINES GRAND PRIX – one of the best remunerated indoor Grand Prix competitions in the world.